Teac's TN-570 Turntable Combines Style with Excellent Performance, includes a Dual Material Marble Plinth, "PRS3" Precision Speed Control and Hi-Resolution Digital Optical Output.
Teac's new TN-570, High-end Hybrid Turntable is designed with the concept of combining sleek style with excellent performance as an analog or digital turntable. The Flagship TN-570 provides the virtues of analog or digital sound to the highest standards of audiophiles who have loved Vinyl for decades or the entry-level user who has just begun to have a real interest in Vinyl recordings.

The Teac TN-570's Plinth combines heavy cultured marble on high-density MDF in a two-layer sandwich structure (Dual Material Chassis). In addition to insuring a low feedback margin, this design realizes clear sound by abating the inherent resonant frequencies of different materials by combining them. The power train employs a belt drive with an automatic rotation adjustment mechanism (Platter Rotation Speed Servo System, or "PRS3") designed by TEAC. Changes in the platter rotation speed are immediately detected by an optical sensor and used as feedback for the motor speed control. This allows high-precision rotation speed that can compete with heavyweight-class belt drive and direct drive systems, while providing a sleek and stylish design.

The TN-570, has a newly designed tone arm and head shell uses PC-Triple C wiring and comes equipt with a new Audio-Technica AT100E MM VM Cartridge and includes a Moving Magnet type RIAA Phono Equalizer Amplifier with switchable Phono or Line analog audio outputs and also has a High-end Cirrus Logic Analog to Digital converter built in. The optical digital output delivers 24-bit/192kHz digital Hi-Resolution audio quality and the USB port does 16-bit/48kHz to a PC or Mac. The TN-570 provides new hybrid ways to enjoy listening to vinyl records choosing either analog or digital audio output. Possibilities include experiencing how the sound differs according to the connection, and building a high resolution digital music archive by recording vinyl records directly to a computer.
No compromises!  The Teac TN-570 is designed with the mature audiophile in mind, with the artful look and precision performance of a High-end Hybrid Analog/Digital Turntable, as a new industry standard. 
Mark Peabody, Soundsclassic.com
High-precision Rotation Speed that out performs Direct-drive!
■ Cogging Free Belt-Drive Platter Rotation Sensing Servo System (PRS3)-
<![if !vml]>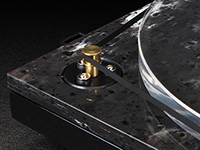 <![endif]>
This new drive system employs Teac's PRS3 (Platter Rotation Speed Servo System) that detects minute changes in the platter rotation speed by a contact-less optical sensor set at the spindle base, and controls the motor speed after calculation by an on-board microcomputer. It realizes a Belt-drive mechanism with higher precision that out performs most Direct-drive turntables. The TN-550 has achieved both sleek design and precision rotation.
What is Cogging?
Cogging is a phenomenon in which the periodic attraction of the armature and rotor inside the motor is dependent on the rotation angle, resulting in a fine pulsing. For example, if you turn the axle of a motor with your fingers, you'll feel the rotation occurring in steps. This phenomenon is called 'cogging.' In order to eliminate the cogging on a Direct-drive turntable, it requires a large numbers of poles in the motor and complex circuits and mechanism to achieve smooth rotation. As a result, the drive unit itself must be huge, which prevents making the cabinet sleek and elegant.
■ Electronically-controlled Speed Selector-
<![if !vml]>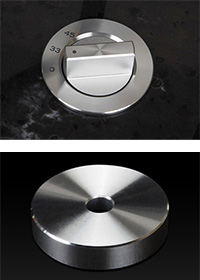 <![endif]>
The speed selector uses an electronically-controlled speed changing mechanism between 33-1/3 rpm and 45 rpm, which does not require bothersome processes of changing the pulley to another one with different diameter.
Both the speed selector knob and the 45 rpm adapter are precision machined aluminum for a more prestigious feel.
■ Clear Acrylic Platter that merges elegance with silence-
<![if !vml]>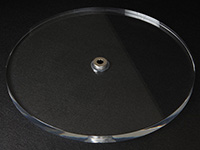 <![endif]>
The 16mm-thick full-size clear acrylic platter suppresses unwanted sympathetic vibrations. The high accuracy of the spindle is maintained by a polished Stainless Steel Spindle and a highly durable bronze spindle holder. With its high transparency, it shines beautifully, reflecting its surroundings according to the light level. Together with the pattern of the marble, it presents a unique elegance.
■ High-precision Spindle and Anti-static Carbon-coated Base-
<![if !vml]>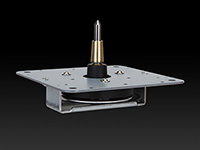 <![endif]>
By applying a carbon coating to the spindle bearing, hardness is increased and electrification is eliminated, providing excellent static electricity control and performance.
■ Large Torque Motor with a floating structure-
By employing a rubber cushion, the large torque motor is set to float when attached to the chassis, thus suppressing the transmission of vibrations from the motor to the chassis.
■ Urethane Rubber Flat Belt-
A urethane rubber flat belt provides excellent durability to reliably transfer energy from the motor drive in order to quietly and accurately drive the acrylic platter.
■ Chassis with Dual Layer structure realizes both weight and style-
<![if !vml]>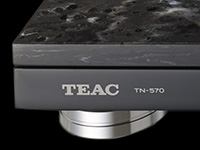 <![endif]>
The Turntable Plinth combines man made marble sandwiched on high-density MDF. This design abates the inherent resonant frequencies and realizes a clearer sound, allowing the music inscribed in the grooves of the record, to come out vividly. The marble not only contributes to the Turntable's elegant appearance, but also to its gravity, giving the turntable a solid weight of about 20 lbs, while retaining a slim and stylish appearance.
■ Honeycomb-shaped Bottom Case-
<![if !vml]>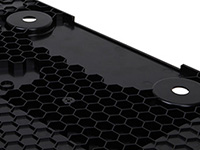 <![endif]>
The metal bottom cover, uses a honeycomb structure which melds into the plinth's stylish design, to provide rigidity and prevent any unwanted sympathetic vibrations.
■ Height Adjustable Feet-
<![if !vml]>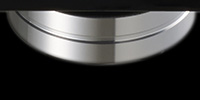 <![endif]>
Four machined aluminum feet can be height adjusted independently. Allowing the turntable to be set up on surfaces that are not flat. In addition, rubber cushioning is used between the feet and the body of the plinth to suppress any unwanted feedback to the cabinet.
■ Newly Designed Tone-arm with Anti-skating Mechanism-
<![if !vml]>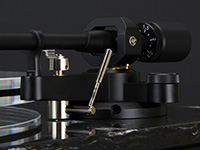 <![endif]>
The static-balanced S-shaped tone-arm features high flexibility as it can be adjusted for optimal tone-arm height and weight for any appropriate head shell or cartridge. A new Anti-skate Mechanism is employed to give even tone-arm and balanced stylus pressure to the delicate vinyl record groove. High-quality PC-Triple C* conductor wires are used in the tone-arm, so that the signal captured by the needle from the record is transmitted with pure sonic quality.
What is PC-Triple C ?
PC-Triple C stands for "Pure Copper-Continuous Crystal Construction" which allows signals to flow smoothly by eliminating signal obstructions. With high conductivity and excellent sound characteristics, this new material is expected to become a replacement standard. (Made in Japan by FCM, a subsidiary of Furukawa Electric Co., Ltd.)
■ Built-in Phono RIAA Equalizing Amplifier-
Since a phono equalizing amplifier is built-in, you can enjoy vinyl record sound by connecting the TN-570 directly to an existing preamplifier or receiver that does not have phono inputs. In addition, the phono equalizing amplifier employs an OPA1602 SoundPlus® Op-amp which is designed to provide high quality phono audio. The detailed analog signal transmitted from the cartridge is restored to the original audio signal via the RIAA equalizer amplifier without distortion or loss.
■ MM-type Cartridge by Audio-Technica  (AT-100E)-
<![if !vml]>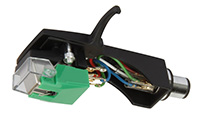 <![endif]>
A Moving Magnet type cartridge, the Audio-Technica AT100E comes installed from the factory,  in the universal type head-shell which also employs PC-Triple C wiring for pure signal path.
■ Optical/USB Digital and Phono/Line Analog Outputs
<![if !vml]>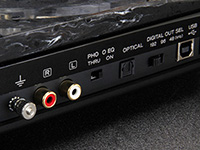 <![endif]>
With a high-precision A/D converter made by Cirrus Logic, the TN-570 delivers optical digital output up to 192kHz/24-bit PCM  Hi-Resolution Audio, while a USB output delivers 48kHz/16-bit digital audio to your Computer. These two outputs allows you to save your vinyl collection digitally on a PC/Mac or CD-R/RW discs for car hi-fi, or enjoy superior details of the sound by connecting to your favorite D/A Converter unit.

From the analog audio output portion, a pair of high quality gold-plated RCA jacks deliver either Phono or Line level output to fit your existing hi-fi system.
■ Detachable Dust Cover-
<![if !vml]>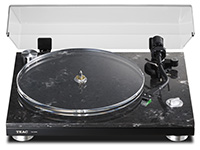 <![endif]>
By removing the dust cover from the unit, you can better enjoy how music relives from vinyl recordings.
45 and 33-1/3 rpm 2-speed Electronically Switched Belt Drive Turntable

"PRS3" Platter Rotation Sensing Servo System for Precise Rotate Speed

Sleek Resonance-free Compound Marble Stone and High-density MDF Plinth

Crystal Clear Acrylic Platter with Perimeter Belt Drive

High-precision Spindle with Anti-static Carbon-coated base

Height Adjustable Anti-skating Tone-arm with PC-Triple C Wiring

Universal Head-shell with PC-Triple C Wiring

OPA1602

SoundPlus

® Op-amp for Built-in RIAA

Phono

EQ Amplifier
AT100E MM Cartridge supplied from Audio-

Technica

Built-in A/D Converter by Cirrus Logic and 24-bit/192kHz Digital Optical Output

16-bit/48kHz USB Digital Output

Rigid Honeycomb-structured Metal Bottom Panel

Machined Aluminum Height Adjustable Feet

Machined Aluminum 45 rpm Adapter and Speed Selector
Product Dimensions 16.9 x 14 x 5.2